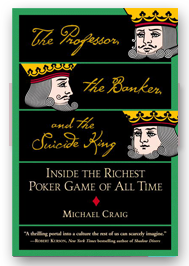 Michael Craig's The Professor, the Banker, and the Suicide King takes readers on a behind-the-scenes tour of (at the time) the highest stakes poker game ever played. In search of a new challenge, banking prodigy Andy Beal challenges the best poker players in the world to play for stakes so high that millions of dollars change hands in a session and even these seasoned veterans can barely handle the swings.
As a poker player, I found PBSK fascinating for a number of reasons. For one thing, there were a lot of little details about Bobby's Room (the high-stakes section of the Bellagio poker room, named for Bobby Baldwin) and the people who play there that I didn't know. Craig writes for a broad audience, but even as someone who is relatively in-the-know about the poker world, I came away with a much better sense of the culture and traditions of that game. There were even a few regulars I hadn't heard of, which I suppose is in itself a statement about the nature of the game.
Title notwithstanding, the book's truly central characters are Beal and Doyle Brunson, not Beal and Howard Lederer. Craig chronicles the two men's parallel struggles, Brunson's to herd a team of notoriously stubborn and independent poker players into a functioning team with a 10-figure bankroll, and Beal's to find an edge against the game's greatest.
For Brunson, there are logistical difficulties and personality conflicts. Few players could afford to take on Beal on their own, and in any event the banker insisted on playing heads up. Nevada gaming law requires any game to be open to any player, meaning that the only way to ensure one-on-one action was to give everyone who could remotely consider playing the option to buy a piece of "The Corporation". This, in turn, meant getting everyone to put up hundreds of thousands of dollars and agree on who would play Beal when. No one was too keen on either losing his friend's money or seeing his own money lost, plus Beal insisted on playing at inconvenient times such as during the World Series of Poker or at 8 AM.
This was no accident. Beal quickly realized that his only chance would be to push the pros out of their comfort zone by insisting on astronomical stakes, arriving in Las Vegas with little notice, and otherwise making things as inconvenient as possible for The Corporation. Over time, he also came to take elaborate measures to neutralize their potential advantages over him: sunglasses, headphones (to discourage conversation), a random number generator, a homemade abacus (sorry, you'll have to read the book to make sense of that one), etc.
I found the insights into both the financial relationships that undergird the poker economy and the psychology of an amateur who would attempt to take on the best of the best to be quite interesting. PBSK isn't just for poker junkies, though. In fact, the central conflict of amateur vs. professional makes it equally appealing to a casual reader with little or not knowledge of poker. The book is remarkably light on actual hands played or anything else that would require more than a passing familiarity with the game, and Craig does a good job of explaining what little the reader does need to know without ever boring his "insider" audience.
All in all, Michael Craig's The Professor, the Banker, and the Suicide King is an interesting and fast-paced introduction to the high-stakes poker world built around an inherently intriguing story. Any poker player would enjoy it, and it would also make a great gift for anyone you'd like to educate about the vagaries of professional poker.