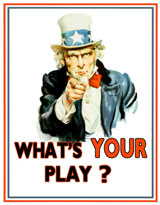 The first video in my new four-part series about HUD-based decision making and using statistics to exploit opponents has just gone live at Poker Savvy Plus. In conjunction with that, I've got a twist on the old "What's Your Play?" series. In this hand, calling or folding are your only options, and it's an extremely read-dependent decision.
Take a look at the hand, and then sound off on the question I've got for you at the end:
Full Tilt No-Limit Hold'em, $10.00 BB (5 handed) – Full-Tilt Converter Tool from FlopTurnRiver.com
UTG ($1570)
MP ($1124)
Button ($2200)
Hero (SB) ($1000)
BB ($1017)
Preflop: Hero is SB with 7
, K

3 folds, Hero bets $40, BB calls $30
Flop: ($80) 6
, 8
, 6
(2 players)
Hero bets $55, BB calls $55
Turn: ($190) K
(2 players)
Hero checks, BB bets $150, Hero calls $150
River: ($490) 3
(2 players)
Hero checks, BB bets $772 (All-In)
Suppose that you were going to have to make this decision. I tell you that he is a winning regular at these stakes, and I offer to give you just ONE of the following statistics that I have on him, based on a sample size of 397 hands played in 6-max games. Which would you choose and why?
Voluntarily Put Money In Pot (VP$IP)
Pre-Flop Raise (PFR)
Three-Bet Percent (3B%)
Aggression Factor (AF)
Fold to Continuation Bet (FCB)
Flop Aggression Frequency (FAFq)
Turn Aggression Frequency (TAFq)
River Aggression Frequency (RAFq)
I want to wait a few days to give everyone a chance to comment, so I'll post my thoughts on Sunday.