I was glued to the recent Girah/Jungleman/DogisHead scandal(there are a few threads on the subject but this is the most recent). I read every interview and every statement from the "suspects" within minutes of its release. I'll admit that I do enjoy a good scandal, but what was really fascinating about this one was what it revealed about this very strange world of sometimes socially stunted young people who have grown suddenly wealthy by excelling at a few very specific skills. There is no denying their intelligence, and yet they can be naive and downright dumb in so many ways.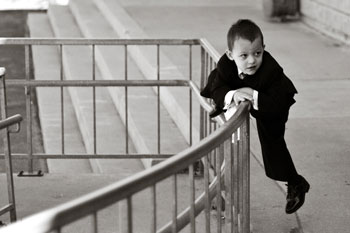 It reminds me of some of the teenagers I've met through my work in urban public education. Many of these kids come from circumstances that force them to grow up early. For a variety of reasons, they may be responsible for not only themselves but younger siblings from a very young age. Many have seen violent crime and drug addiction up close, in a friend or family member if not personally.
Consequently, they can seem deceptively mature. One minute, you can be having a deep, serious conversation about religion or education and you feel like you are talking to an adult. Then suddenly your 15-year-old interlocutor will ask you a question like, "Is Bush a Democrat or a Republican?" or just interrupt himself mid-sentence to go run after a girl he's interested in, and you remember that you are still dealing with a child.
That's how I felt reading Haseeb's "confessions" and Daniel's interviews. These are individuals who have achieved incredible success at a very difficult game, who are dealing with staggering sums of money, and who are suspected of perpetrating some very complicated and serious fraud. It's an adult situation, and while at one moment they seem to recognize the gravity of it all, in the next they are offering ridiculous, frivolous justifications for their behavior: " It's one of those things that happens and that everybody does and has been guilty of at one time or another" (Haseeb on the 25/50 heads up PLO session that he played on the Girah account) or "Maybe I should have confronted Haseeb, but coming out and saying something publicly is nothing but the most sanctimonious mother fuckers would ever do." (Daniel on why he wouldn't have said anything even if their chipdumping had resulted in Girah winning the Lock Poker challenge illegitimately).
Of course there's the open question of to what extent anything that these guys say can be believed. The naivete is there either way, though. Either Haseeb and Daniel really did stake Jose for $100,000 without investigating his results, or they expect the poker community to believe they did. Either they really did think that chip-dumping was the best way to get the money into Jose's account, or they expect us to believe that they had no idea the dump would give Jose the lead in the Lock challenge. In either case, the naivete is staggering.
Time and again, these scandals that rock our community seem to be caused at least in part by extremely immature individuals who take their ethical cues from a very small and specific peer group and are at best out of touch with the larger context of their actions. How many times have we heard that "everyone" was multi-accounting the Sunday Majors (Bonomo), "everyone" was buying accounts (Mizzi), "anyone" would take a UB sponsorship if money were thrown at them (Sebok et al) etc.?
It's possible that these are just ex post facto justifications, but I'm often inclined to believe them simply because the perpetrators make so little effort to hide what they are doing. Josh Fields was busted for multi-accounting because one of his friends bragged about him winning a major tournament on an account that wasn't his. Instructors used to produce videos all the time where they played on other people's accounts, as though the fact that it made for better videos justified the harm done to their opponents. Dan Flowers produced instructional videos in which his HUD showed tens of thousands of hands' worth of data on opponents with whom he'd played only a few hundred hands, clear evidence that he'd purchased datamined hand histories.
All of these players were probably aware that they were doing something a little shady, but the fact that they made so little effort to hide suggests that they honestly didn't believe it was that big of a deal. In some sense, they were right. Of the players I mentioned in the last two paragraphs, Fields is the only who is still persona non grata in the poker community. A shocking number of players support accused cheats in the "no big deal" defense, and sponsors (who remember are often relatively immature suddenly-wealthy individuals themselves) are generally willing to overlook these things. Likewise, if they are good players and/or fun to hang out with (by the way, isn't it shocking how many of these folks caught cheating were already making tons of money on the up and up?), other members of the community are surprisingly quick to forgive them as well.
There's a pervasive sense in our community that skirting (to be generous) ethical lines is no big deal if "everyone else" (meaning your small circle of similarly situated and self-interested friends) is doing it, if it is convenient or profitable for you (for some really laughable ethical reasoning, check out this thread about US players playing over a VPN), or if the only victims are "fish" (Tommy Angelo is the only poker player I've ever heard condemn the practice of berating opponents simply because it's a bad way to treat other human beings rather than because it's bad for the game).
This self-centered mindset where the only ethical compasses are one's own self-interest and the approval of one's immediate, usually biased peers is fundamentally immature. Even more immature are the half-assed apologies and justifications and the general attitude that pristine ethical behavior can't be expected from poker players.
Well, maybe it can't be expected, but it ought to be demanded. We all probably ought to be more skeptical than we are about our competitors. We also ought to demand better behavior and have higher consequences when people fall short. It seems like even after a player acknowledges wrongdoing, he rarely makes any effort to rectify the problem. See Cates' unwillingness to repay money he won when playing on the Girah account for a recent example.
Poker players aren't saints, and I'm not saying that an ethical infraction ought to get you shunned for life. But I do think we ought to demand a little more, from others and from ourselves, before we let it all become water under the bridge. It's the mature thing to do.