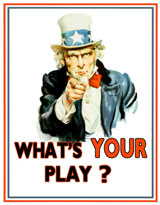 This is the first match of the $700 Heads Up NLHE WCOOP event. Villain is Liv Boeree. This is one of the first hands of the match, so nothing significant has happened yet.
Liv and I have actually played together before, in last year's WCOOP and in the 2008 WSOP. Although I'm no longer on Team Online, I still have the head-shot-against-black-background avatar, so there's an outside chance she remembers me, though her appearance is of course far more memorable than my own. In any event nothing particularly memorable happened during those encounters anyway.
I don't know how many tables she was playing at the time, but Liv didn't respond to my "Hello, good luck" and smiley emoticon in the chat box, so it's possible that she's not paying all that much attention to this match. Or she just thought I was trying to chat her up and wasn't interested.
PokerStars No-Limit Hold'em, 700 Tournament, 25/50 Blinds (2 handed) – PokerStars Converter Tool from FlopTurnRiver.com
BB (t7700)
Hero (SB) (t7300)
Hero's M: 97.33
Preflop: Hero is SB with 8♥, 10♥
Hero bets t100, BB calls t50
Flop: (t200) 2♦, 6♥, 7♦ (2 players)
BB checks, Hero bets t100, BB raises to t350, Hero calls t250
Turn: (t900) 3♣ (2 players)
BB bets t550, Hero raises to t1850, BB calls t1300
River: (t4600) 4♣ (2 players)
BB checks, Hero?
Do want to take another stab at it? If so, how much do you bet and why? Leave your thoughts and comments here, and I'll be back on Friday with the results and my own thoughts.