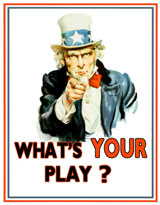 Early in the $320 6-max WCOOP event. Hero has been an unremarkable TAG so far, and Villain even more so. Villain, over a small sample of hands, is 15/10 with 22% Attempt to Steal.
PokerStars No-Limit Hold'em, 320 Tournament, 15/30 Blinds (6 handed) – PokerStars Converter Tool from FlopTurnRiver.com
SB (t6351)
Hero (BB) (t3555)
UTG (t4362)
MP (t4782)
CO (t5125)
Button (t5922)
Hero's M: 79.00
Preflop: Hero is BB with 8
, 7

2 folds, CO bets t75, 2 folds, Hero calls t45
Flop: (t165) K
, 10
, A
(2 players)
Hero checks, CO bets t90, Hero?
What's your play and why? Please post your comments here, and I'll be back with my own thoughts on Friday. Obviously a lot could happen, but if you want to do anything besides fold, please give a general idea of your plan (raise once and give up if called, call and check-raise turn, check-raise and barrel non-spade turns and rivers, etc.).