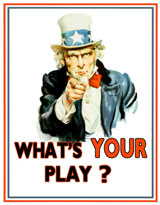 Sorry for the delay, new podcast episode should be up tomorrow. Here's something to keep you busy in the meantime.
Shortly after dinner break at the $2500 Borgata Poker Open, re-entry period is over. Table is reasonably tough for this event, we're ten-handed with three opponents I consider competent and three good. Here's the cast of characters:
Hero (32K): I arrived at table a few hours ago. I'm definitely viewed as tight and probably weak-tight as a result of being card dead at a very active table.
MP (50K): Probably mid-40s, full head of slightly disheveled curly gray hair. Wearing glasses, jeans, and polo shirt, wouldn't be shocked to learn that he majored in English but works in IT and takes his poker seriously. He's been playing more aggressively than his image would suggest, involved in more than his share of pots and usually raising. Hard to say for sure since he hasn't been to many showdowns, but he's raised in a lot of good spots. I'm ranking him among the competents.
BB (100K): Mid-30s, athletic wear, probably from Jersey. Hasn't said much but also playing better and more aggressively than his appearance would suggest. Caught him 3-betting A6s in middle position against a middle position opener for, as best as I could tell, no particular reason. Counting him as competent.
MP and BB played a hand against each other shortly before dinner that ended with MP bet-folding to a big overbet shove on an A999x board. I suspect BB had an Ace and forced MP off of a chop, but neither showed, so I don't know for sure. MP seemed annoyed about it at the time, but it's been like two hours and he doesn't seem to be steaming or anything.
Blinds are 300/600/75. I open to 1500 with As Ts UTG+2. MP calls, BB calls.
Flop (5550 in pot): 9s 8d 7c We check it around.
Turn (5550 in pot): 9s 8d 7c 6d We check it around.
River (5550 in pot): 9s 8d 7c 6d 4d BB bets 2K, I think for 5-10 seconds and call, MP tosses out 15K and stares hard at BB, who folds without too much thought. Now MP swivels his head like a velociraptor who's just caught the scent of Jeff Goldblum and gives me the staredown. I quickly pick up calling chips to see how he reacts, but he doesn't flinch.
What's your play and why? Post your thoughts and comments here, and I'll be back with my own on Friday. Obviously my play on early streets was a little unconventional, mostly owing to my image and how aggressive the table was, but I'm happy to discuss those as well if you have thoughts or questions about them.