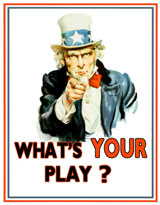 In honor of my first video series at Tournament Poker Edge, here's a twist on the "What's Your Play?" theme with an emphasis on hand reading.
Five-handed $5/$5 no-limit hold 'em game. Villain bought in about an hour ago for $500 and is down to about $440. He's a very amateurish older man, probably mid-60s, and so far has been an extremely straightforward, level one, tight-passive player. He doesn't do much hand reading and even less bluffing, needs to be pretty damn sure he's good before betting or raising, and sizes his bets/raises in accordance with his hand strength.
At 30, Hero (me) is the second-oldest player at the table by several years, but also by far the most aggressive. He's probably perceived by Villain as overly aggressive but slightly dangerous/intimidating for that reason. He has about $1200 on the table.
UTG straddles to $10. Next to act, Hero raises to $30. Villain calls on Button, SB folds, BB calls, straddle folds.
Flop ($102 in pot) Jh 9s 5d. BB checks, Hero bets $45, Button raises to $100, BB folds, Hero takes 8-10 seconds to call.
Turn ($302 in pot) Jh 9s 5d Tc. Hero bets $175, Villain seems genuinely to agonize for 30 seconds or so and finally calls.
River ($652 in pot) Jh 9s 5d Tc 4h. Hero checks, Villain checks.
As early as the flop raise, I was about 80% sure of Villain's exact hand. After the turn, I expected him to have Hand A 95% of the time, Hand B 4% of the time, and I allowed for a 1% chance that my read was off. He showed Hand A.
Questions for you:
1. What is Hand A?
2. What is Hand B?
3. My hand is hopefully a bit harder to read than Villain's, but what do you expect me to have and why?
Leave your answers and comments here, and I'll be back with results and my own thoughts on Friday.
Other posts you might like:
82 Responses to "What's His Hand? Nit vs LAG"