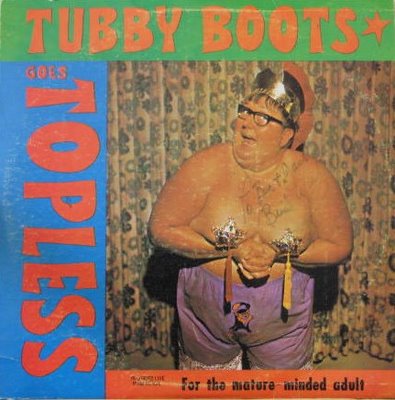 Something different today: Andrew interviews his grandmother about her brother, a 400-pound cross-dressing stand-up comedian with a love for all things gambling. The result is a moving, inspiring portrait of a life well-, if strangely, lived. Plus, some exciting announcements!
Tubby Boots was a performer with an ecclectic, eccentric career that spanned four decades. At the height of his popularity he played the biggest hotels in Miami and Las Vegas and released four albums: Tubby Boots Goes Topless (available on YouTube), Out of This World, Songs for Swingers, and Thin May Be In – But Fat's Where It's At. You can also see one of his live performances on YouTube.
Tubby's sister, Sylvia Brokos, has nothing to sell. She does not have a website or a Facebook account, and you can't follow her on Twitter.
Book Club
Next week, we'll be discussing the Introduction and Part 1 of Ed Miller's Playing the Player.
Strategy Segment
Game is 3/6 USD, 5% uncapped rake.
HJ opens to 20$. CO three-bets to 55$. Hero 4-bets to $125 with As 3s on the button. HJ snap folds, CO snap calls.
Flop is 8c 7c 2c Pot = ~275$
CO checks, Hero bets $110, CO calls quickly
Turn is 9d Pot = $495
CO checks making eye contact, Hero bets $165, CO calls unhappily.
River is Jc Pot = $825
CO checks quickly. Hero takes 30 seconds and moves all in for $340 effective, covering villain by $20 or so.
Timestamps
6:42 Introducing the Thinking Poker Book Club
9:50 Strategy: a hand from Gareth, currently in Uruguay
32:40 Old podcast episodes now available on iTunes!
33:54 Andrew and his grandmother discuss Tubby Boots
Podcast: Play in new window | Download