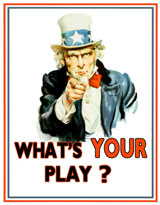 I haven't posted in a while so I figured I'd go ahead and put up an early WYP.
Villain is a regular but for whatever reason we don't have a lot of experience playing together. From what little I've seen he seems to be mostly loose-passive in small pots but capable of getting a little more tight-aggressive (as opposed to tight-passive like a lot of the middle-aged regulars) when the pot gets large. He limp-calls often but rarely raises pre-flop. The game is $5/$5 NLHE, Villain has about $700, Hero covers.
Villain opens for $20 UTG+1, MP calls $20, BTN calls $20, SB folds, Hero calls $15 more with Ks Ts.
Flop ($80 in pot) Kd Qs Th. Hero checks, Villain quickly bets $100, other two fold, Hero calls.
Turn ($280 in pot) 5h. Both check.
River ($280 in pot) 9d. Hero bets $100 without too much delay, and when Villain doesn't act immediatley, Hero turns to transact business with a waitress. When he looks back thirty seconds later, Villain has raised to $225.
What's your play and why?
Post your thoughts and opinions here, and I'll be back on Friday with my own as well as the results. Fair warning: I'm on vacation this week so I may not respond to comments before Friday.
Other posts you might like:
27 Responses to "What's Your Play? Min-Raised on the River"