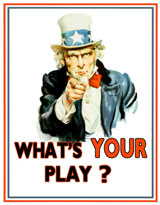 This WYP should be of particular interest to fans of my Getting Paid series on Tournament Poker Edge. We're heads up at the first table of a $500 NLHE Shootout WCOOP event. (In a shootout, they don't break tables. Instead each starting table plays until one player remains, then they assign new seats and play down to one at each table again, etc.)
We haven't had many hands heads up yet, but during short-handed play Hero was loose, aggressive, and stubborn, calling quite frequently out of the big blind, floating or otherwise playing back at c-bets, calling down light, etc. Villain has been slightly on the loose-passive side but hasn't made any glaring mistakes or exhibited deep flaws in his game or anything.
PokerStars No-Limit Hold'em, 530 Tournament, 150/300 Blinds 35 Ante (2 handed) – PokerStars Converter Tool from http://www.flopturnriver.com
SB (t29,370)
Hero (BB) (t23,130)
Hero's M: 44.48
Preflop: Hero is BB with A♥, 9♣
SB bets t600, Hero calls t300
Flop: (t1,270) 7♥, J♥, 5♥ (2 players)
Hero checks, SB bets t645, Hero calls t645
Turn: (t2,560) 9♥ (2 players)
Hero checks, SB checks
River: (t2,560) K♠ (2 players)
Hero? 
In case you have trouble reading the suits, Hero turned an Ace-high flush. What's your play and why? Post your thoughts, questions, and comments here, and I'll be back with results on Friday.