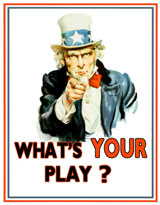 Edit: Thanks to ThereYouGoAgain and others who pointed out the errors in my original post. Sorry for the confusion – Villain 1 (the open limper) did overcall the raise, and three of us saw the flop and turn (where pot size was wrong).
This hand comes from a $2/$5 no-limit hold'em game at the Venetian. Villain 1 ($700) is your typical loose-passive live player, lots of limping and calling and straight-forward play. Villain 2 ($1000) seems like a young live pro, mostly trying to make big hands and value bet weaker players, probably capable of making some plays at weaker players but also with a decided cautious/pot-control streak to him. Basically he seems uncomfortable playing marginal hands in big pots, quite possibly because he's not adequately bankrolled for the game.
Hero is relatively new to the table but may already have established an aggressive/bluffy image. I've raised limpers a couple of times, three-bet others who seemed to be attacking limpers, and generally not been giving up easily post-flop. I haven't shown down anything too crazy, but an attentive opponent would probably have noticed that I was fighting for more than my share of pots. I cover both Villains.
Villain 1 open limps in middle position, Villain 2 makes it $20 from the hijack, I call with  Jh 9h in the cutoff, Villain 1 calls and everyone else folds.
Flop ($65) Td 9c 6d. Both Villains check, I bet $45, Villain 1 snap-calls, and Villain 2 calls as well.
Turn ($200) 4s. Villain 1 bets $60, Villain 2 calls, Hero?
Post your thoughts, questions, and comments here, and I'll be back with results and my own thoughts on Friday.