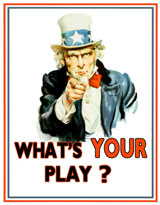 My main event run came to an end early on Day 3 in unspectacular fashion. I do, however, currently have an above average stack going into the $5000 Venetian Deep Stacks main event. I don't think any hands from those tournaments are as instructive as this one, though.
This is from a $2/$5 NLHE game at Red Rock, currently playing 9-handed. Most of the table, including Villain, are regulars in the room and fairly typical mid-stakes amateurs, which is to say a little too loose in small pots, a little too tight in big pots, and way too predictable in general. Hero (me) is probably perceived as an over-aggressive guy from the internet, with lots of raising, re-raising, and c-betting. The one hand Villain has seen me play for stacks saw me limp-re-raise Ad 9d UTG in a straddled pot, then bet-call about $800 on a Tc Td 5d flop.
Hero ($2000) straddles the button for $10. Villain ($600) raises to $30 in middle position. Hero calls Kc 8c, and BB ($1000) calls.
Flop ($90) 9c 9s 7c. BB checks, Villain bets $30, Hero calls, BB folds.
Turn ($150) Kd. Villain checks, Hero checks.
River ($150) 4h. Villain bets $120, Hero?
Post your thoughts and questions here. I'll do my best to keep up with them during the week and will post my own thoughts as well as the results on Friday.