Hopefully a lot of you follow me on Twitter, because I know I've been bad about keeping the blog up-to-date. The short version is that I'm still in the Main Event going into day 3. I've got about 20K chips, and blinds are 800/1600/200 when we return, so if I'm lucky I'll get to spend the day in short stack mode.
Day 1 was an experience. I was at the feature table (though I think ESPN's coverage doesn't really start in force until Day 3 so they won't be featuring much) with Doyle Brunson on my immediate left for the entire day. I'd never met him before, and while I know it's cliche to say it, it really was an honor to play with him in this of all tournaments.
An expensive honor, to be precise. I didn't do much for the first six hours, just hovered around starting stack, then I nearly doubled up with a full house in a 3-bet pot. That got me up to 67K, some of which I bluffed off to Doyle and some of which I invested in some draws that didn't get there. I finished the day with 17K.
I don't do this often, but if you don't follow me on Twitter, I'd encourage you just to look through my tweets from July 7. Frankly I'm proud of them, and a lot of people have told me that it was fun to read these little observations from playing and talking with Doyle.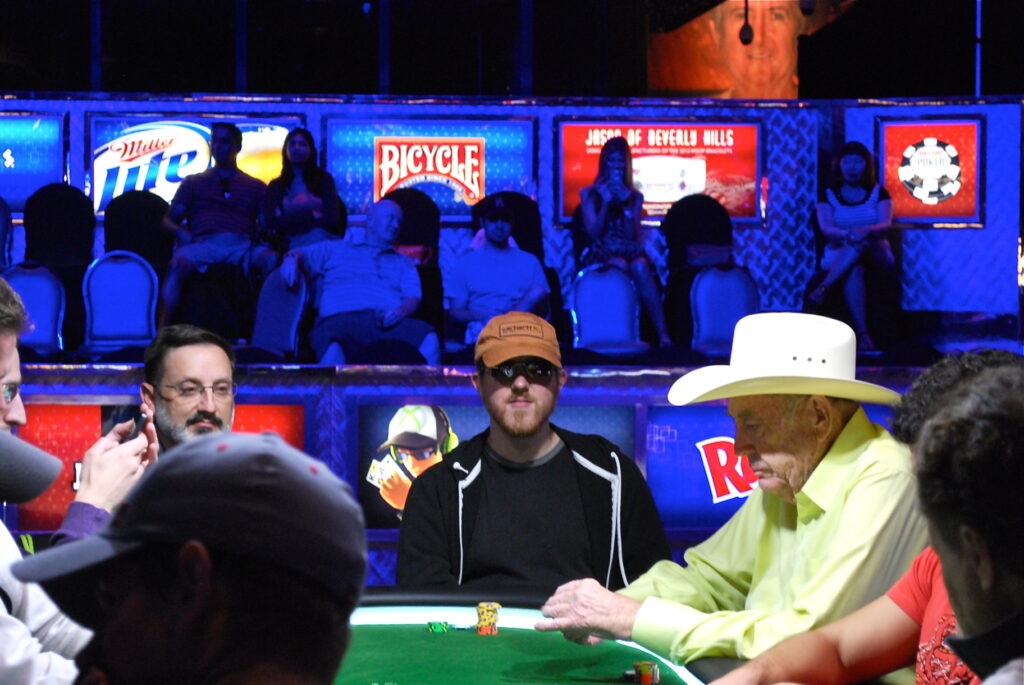 Of course it occurred to me that he'd be an amazing podcast guest, but I couldn't screw up the courage to ask him. We got on fine but I don't think I ultimately made much of a connection with him while we were together, and by the end of the day he looked exhausted and like his back and legs were giving him a lot of pain – definitely was not giving the impression that he wanted to stick around and chat about an exciting interview opportunity.
Day 2 got off to a really good start, I doubled up pretty early with KK > AK, then again with 33 > KQ on a KK33J board. I got as high as 125K but again some questionable bluffs followed by a run of cards that left me unable to capitalize on my screwball image ground me back down.
Towards the end of the day I changed tables for the second time, and I was actually really proud of myself for the restraint I showed there. I didn't get any premium hands the whole time I was there, and the few times I raised with decent hands I had the discipline to let go of them when I met resistance. I also didn't let myself get too gunshy about bluffing and managed to find a good spot to squeeze and increase my stack by about 30% without showdown and without putting all my chips in the middle. So although I ended the day with just 20K, I found something to be proud of.
Finally, if you're interested in catching up on my WSOP exploits from earlier in the summer, the first part of my trip report is now appearing in 2+2 Magazine.