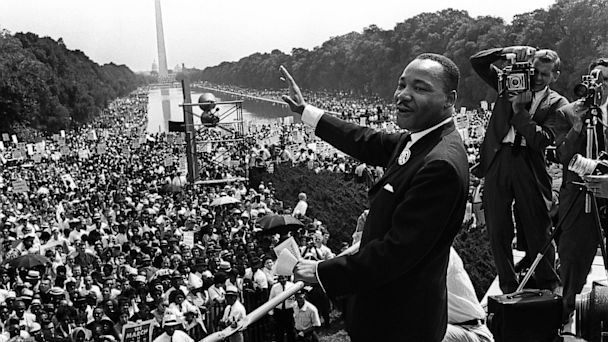 Today is the 50th anniversary of the March on Washington for Jobs and Freedom, in my opinion one of the most significant events in American history. For those who don't know, the March was part of the larger movement pushing for the expansion of civil rights for African-Americans, who even 100 years after the end of slavery continued to suffer from poverty and discriminatory treatment. With between two and three hundred thousand attendees, it remains to this day one of the largest political rallies in US history and was the occasion for Dr. Martin Luther King, Jr's famous "I Have a Dream" speech.
The March is significant to me because it represents so much of what I love about my country. I'm not a big "rah rah America!" guy, but I do believe that the American ideal (which is not the same as the America that we experience on a daily basis) represents some great things, namely democracy and equality of opportunity. It's easy to roll your eyes at that, and I'm often among the first to point out all of the exceptions and shortcomings, but that's only because I believe my country is capable of better.
The March is one of the best instantiations of that. When I say "democracy", I don't just or even primarily mean citizens voting for their leaders. I mean a sense of collective responsibility for the problems that our country faces, the idea that when we see something wrong, it's on us to fix it. The civil rights movement generally and the March specifically represent the best of America in this sense, a great upswelling of many different types of people (an estimated 20-25% of the participants in the March were white) in support of the change that they saw to be necessary.
Dr. King in particular is an inspiring figure for me because of his ability to see, believe in, and appeal to the best of America despite being confronted with the worst of it. When you think about the kind of discipline and self-restraint that is required to stand your ground, but without resorting to violence, while you were spat upon, sworn at, punched, kicked, and worse, you realize that it requires tremendous strength of character. And while King was truly a remarkable human being, it's notable that thousands of everyday people demonstrated similar strength of character under the same circumstances.
It feels more than a little crass to talk about what the civil rights movement has to teach us about poker, but this is a poker blog, so what the hell. If Dr. King can continue to love segregationists even as they threaten his family and his life, then you can be polite about correcting dealer errors.  If demonstrators can sit impassively at a Woolwoth's lunch counter while they are threatened and assaulted, then you can avoid the temptation to retaliate when your opponents are rude to you. And if children can brave an angry mob on their way to school, then you can take a deep breath and relax the next time you get bad beat.
The attitude of "it's just so frustrating, I can't (or shouldn't have to) control my emotions" is ridiculous. You'll find that it's better for your game as well. So be nice to each other.
Recommended Reading/Listening
From Dr. King:
Letter From a Birmingham Jail
I Have a Dream (video)
I Have Been to the Mountaintop (video)
From this blog:
Central High School, Little Rock, Arkansas
Brown v Board Monument
The Warmth of Other Suns Book Review
Savage Inequalities Book Review
Trayvon Martin and the Burden of Black Parents
With regard to poker: