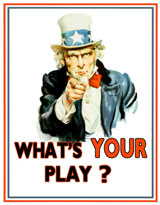 This is another $1/$2 Zoom hand. Villain has TAGgish stats over a small sample, 21/18 with a 3-bet of 11, with all of his 3-bets so far have come from the button or the blinds. Hero's own stats are actually even tighter than that, though I don't have any insight into exactly how Villain perceives me.
PokerStars – $2 NL FAST (6 max) – Holdem – 6 players
Hand converted by PokerTracker 4: http://www.pokertracker.com
BTN: 103 BB (VPIP: 21.02, PFR: 18.47, 3Bet Preflop: 11.43, Hands: 161)
SB: 100 BB (VPIP: 20.21, PFR: 15.96, 3Bet Preflop: 6.41, Hands: 191)
BB: 93.5 BB
UTG: 27.39 BB (VPIP: 48.00, PFR: 20.00, 3Bet Preflop: 17.65, Hands: 25)
MP: 107.66 BB (VPIP: 26.15, PFR: 24.62, 3Bet Preflop: 3.70, Hands: 69)
Hero (CO): 271.68 BB
SB posts SB 0.5 BB, BB posts BB 1 BB
Pre Flop: (pot: 1.5 BB) Hero has Tc Td
fold, fold, Hero raises to 2 BB, BTN raises to 7 BB, fold, fold, Hero calls 5 BB
Flop : (15.5 BB, 2 players) Ah Ad Qh
Hero checks, BTN checks
Turn : (15.5 BB, 2 players) Th
What do you make of Villain's range at this point? How do you want to proceed? Try to say a bit about your plan for both a blank river and a low heart river – you can ignore the cases of massively disruptive cards such as any broadway. I'll be back with my own thoughts and results on Friday.