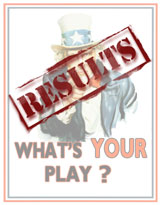 In retrospect, I think that What's Your Play? Turned an Underfull was a poor choice for this feature. The things I have to say about it are much too specific to a certain type of player, and to make matters worse I didn't establish very well in the original post that Villain was that type of player. But here we are, so I'll go ahead and say what I have to say about it.
Hero has a pretty good hand, as long as no one shows much interest in the pot. It is definitely not good enough to 3-bet and probably not even to call a raise. Hero's options are either betting for kind of thin value and folding to a raise or bluff-catching.
It's difficult for Hero to represent a bluff here, because this board smacks his range for calling a relatively large 3-bet out of position pretty. There are a lot of combos of trips and full houses in Hero's range, and when he doesn't have those he probably has some showdown value against the range he might hope to bluff Villain off of – I'm thinking here of KQ or JJ. Even if Hero turns decent pairs like 99 and 88 into bluffs, his range for firing turn and river is pretty strong, and Villain really shouldn't do a lot of bluff-catching. Assuming Villain checks back some full houses on the flop, he can probably even folk AK to multiple bets.
This makes it hard for Hero to extract much value by betting. If you're going to bet the turn, I agree with those who advocate small bets of 1/3 to 1/2 the pot on turn and river, with the intention of folding to a raise.
I'm a little more optimistic about bluff-catching than some commenters. Hero's tentative read is that Villain has a wide 3-betting range, so he should be seeing the flop with a lot more air than Hero. Given the strength of Hero's pre-flop call, I definitely don't think Villain is betting anywhere near 100% of his whiffs on the flop. Among other things, it's a good spot for a delayed c-bet precisely because he will also be checking some full houses and some pretty good trips and pairs.
Basically I see two big advantages and one small one to a turn check:
1. Induce bluffs, which will often include multiple big barrels.
2. Induce lighter river calls if Villain checks again. Villain is going to be conscious of defining his hand as probably-not-the-nuts after two checks, and he'll probably be willing to call a big river bet after doing so. I can see Hero getting nearly as much value with a river bomb as with two small bets, so I don't think he loses terribly much, if anything, from Villain's bluff-catchers relative to a bet-bet line.
3. The smaller advantage is that it strengthens Hero's check-check range. It's hard to check strong hands multiple times, so when I think it's close I like to err on the side of doing so just to strengthen that range and make myself more unpredictable. One potential upside of this is that Hero may occasionally get Villain to value bet worse on two streets.
Results
PokerStars – $2 NL FAST (6 max) – Holdem – 6 players
Hand converted by PokerTracker 4: http://www.pokertracker.com
BTN: 103 BB (VPIP: 21.02, PFR: 18.47, 3Bet Preflop: 11.43, Hands: 161)
SB: 100 BB (VPIP: 20.21, PFR: 15.96, 3Bet Preflop: 6.41, Hands: 191)
BB: 93.5 BB
UTG: 27.39 BB (VPIP: 48.00, PFR: 20.00, 3Bet Preflop: 17.65, Hands: 25)
MP: 107.66 BB (VPIP: 26.15, PFR: 24.62, 3Bet Preflop: 3.70, Hands: 69)
Hero (CO): 271.68 BB
SB posts SB 0.5 BB, BB posts BB 1 BB
Pre Flop: (pot: 1.5 BB) Hero has Tc Td
fold, fold, Hero raises to 2 BB, BTN raises to 7 BB, fold, fold, Hero calls 5 BB
Flop : (15.5 BB, 2 players) Ah Ad Qh
Hero checks, BTN checks
Turn : (15.5 BB, 2 players) Th
Hero checks, BTN bets 11 BB, Hero calls 11 BB
River : (37.5 BB, 2 players) 8h
Hero checks, BTN bets 26 BB, Hero calls 26 BB
BTN shows Ac Qs (Full House, Aces full of Queens) (Pre 43%, Flop 100%, Turn 98%)
Hero mucks Tc Td (Full House, Tens full of Aces) (Pre 57%, Flop 0%, Turn 2%)
BTN wins 88.1 BB