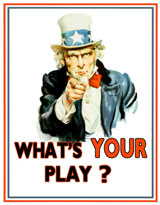 The game is $5/$10/$20 no-limit hold 'em, and it's playing pretty deep. Villain 1 has $8K, Villain 2 has $5K, and I cover both.
Villain 1 is a professional and the toughest of my opponents in this game. He's far more situationally aware than most and reads hands pretty well. He's more inclined to make heroic calls than heroic folds, though he's capable of both, and it's possible that the stakes, which I believe are on the high end of what he usually plays, might change that a bit. His opening ranges are relatively wide from all positions, but he knows that I like to 3-bet him and has shown a willingness to play back with light 4-bets and aggressive post-flop play.
Villain 2 is not a profession but he is a serious player and a good friend of Villain 1. Villain 2 has openly expressed his expectation that he and a third friend of theirs will play straight-forwardly against each other. I expect that Villain 2 will be softplaying Villain 1 (i.e. not the most nefarious collusion, but checking or folding if he has nothing, betting or raising if he believes he has the best hand, never slowplaying or bluffing), but I'm not certain whether Villain 1 will reciprocate. Villain 2 tends to be suspicious of me and my bets.
Villain 1 opens to $75 in early position. Villain 2 calls in the CO. Hero calls with Jc Js from the SB, the BB and straddle fold. Although a 3-bet would surely be profitable here, I was unsure of how to expect Villain 1 to respond and chose to keep the pot smaller when out of position against him.
The flop came 9s 7d 3s. I checked, Villain 1 bet $135 into $255, Villain 2 called, and I called. The turn was the As, and we all checked it without significant hesitation.
The river is the Kd. There's $655 in the pot. Hero?
What's your play and why? If you check, be sure to think about how you'll respond to a bet from either player. If you bet, be sure to think about your target and how you'll respond to a raise. Post your thoughts and suggestions here, and I'll be back with my own on Friday.
Other posts you might like:
57 Responses to "What's Your Play? Bad Runout for an Overpair"