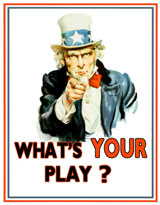 Game is $5/$10 no-limit hold 'em. Villain begins the hand with $1570, Hero covers as does the rest of the table. He's a very good player, reads hands well, and is capable of pretty much anything. He's maybe at times a little overly loose and aggressive but all in all a tough opponent. I believe he perceives Hero in roughly the same way.
There's a straddle to $20, and Villain opens for $80 in the hijack (two seats off the button). Hero calls with Jh Th on the button, and the straddle calls. Like most straddlers, this one is defending his straddle with quite a wide range.
Flop ($255 in pot) Tc 9d 4h. Straddle checks, Villain bets $180, I call, and straddle folds.
Turn ($615 in pot) Qd. We both check.
River ($615 in pot) Ks. Villain checks. Hero?
What's your play and why? If you bet, be sure to discuss your target and your plan if raised. I'll do my best to respond to comments during the week, and I'll post results and my thoughts on Friday.