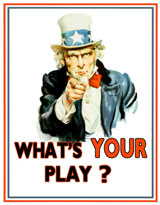 This is from a $5/$10 game at Maryland Live. Villain is an older guy, nitty mostly with regard to his pre-flop hand selection. Post-flop he isn't just absurdly tight-passive, he's capable of bluffing, value betting, etc. at least reasonably well. Probably he views me as a bit "wild", as in playing too many hands, bluffing too much, but also capable of giving legitimately tough decisions. Effective stacks are $2000.
Villain opens for $35 from the CO, I call with 7s 7c in the BB.
Flop ($75 in pot) Tc 5s 4s. I check, he bets $50, I call.
Turn ($175 in pot) 5c. We both check.
River ($175 in pot) As
What's your play and why? Be sure to include at least a tentative plan for future action. In other words, if you bet, how will you respond to a small or large raise? If you check, how will you respond to bets of various sizes?
Leave your thoughts and comments here, and I'll be back on Friday with results and my own opinions.