Sorry for the lack of posts here. As you'll see, I've had a busy few weeks.
It started nicely, with a trip to visit some old friends. As much as Emily and I have enjoyed living in San Francisco, there are some downsides, most notably the fact that most of our family and friends are on the east coast.
Conveniently, we're from the same suburb of Baltimore, so it's easy enough to visit with both of our families during our time there. (Also conveniently, my mother lives about 20 minutes from Maryland Live!)
After a few weeks of that, though, it was time to see some friends who are a bit more far-flung. Two of my best friends from college are married and living in New York with a two-year old daughter. We were able to join them for some camping in the Adirondacks that they already had planned, which was a lot of fun.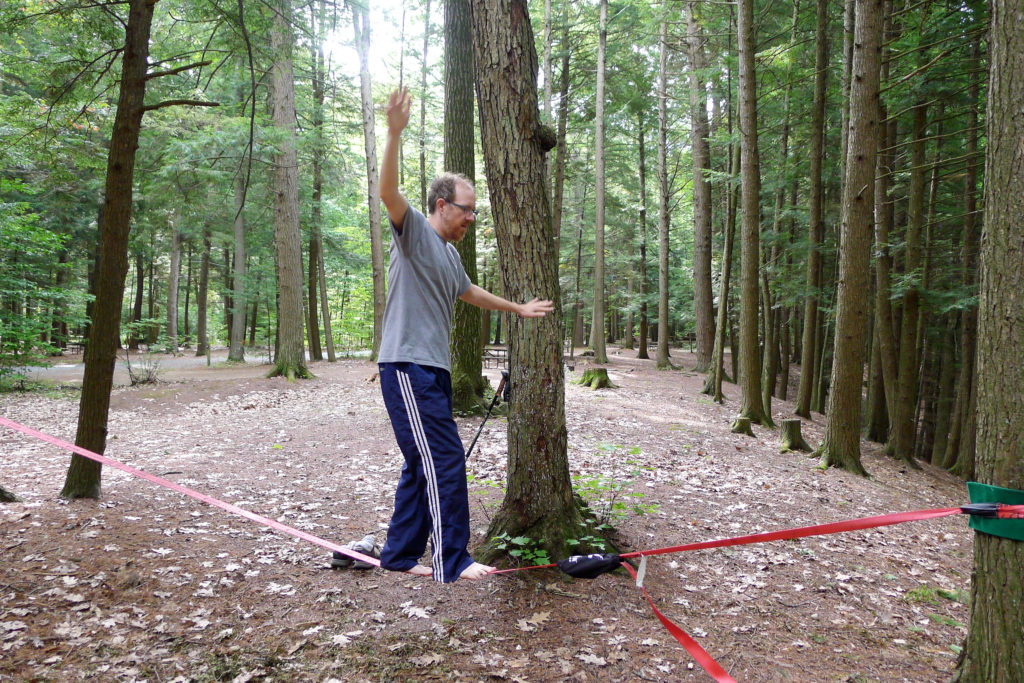 From there, we drove to New Hampshire to see my best friend from high school and his family. Although we weren't camping "with them" per se, their son now lives in what used to be a spare room, and rather than staying at a hotel, Emily and I camped because #nitcast. We were in a state park just across the river in Vermont, and it ended up being a fun spot for all of us to hang out.
The plan was for Emily to put me on a train to Montreal on September 1st and for her to drive back to Maryland. As I was buying my train ticket the night before, I realized…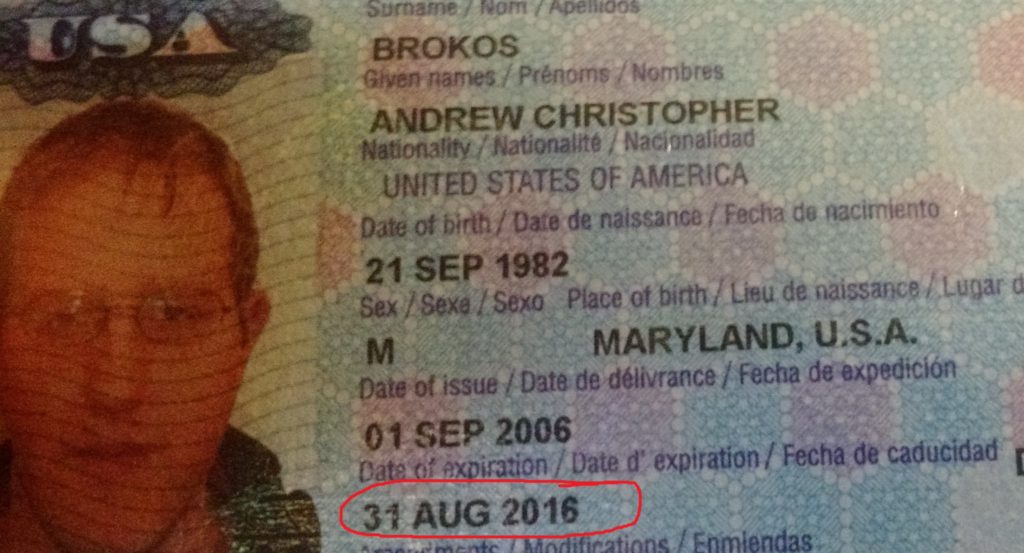 Emily was a lifesaver here, finding a regional passport office in Vermont that just might be able to get me a new passport before the holiday weekend. The next day, she turned around and drove me three hours back in the direction we'd just come from, to St. Albans, on the Canadian border.
Thankfully, it was a beautiful morning, and despite the stressful situation, we were able to enjoy the drive. There are, after all, worse fates than taking an involuntary tour of the Vermont countryside in late summer.
The people at the passport office were fantastic, and amazingly, I had a new passport in my hands about three and a half hours after I gave them my paperwork. St. Albans was a nice little town in which to spend an afternoon while we waited.
I actually had to do something similar, though not quite so dramatic, when I got this passport ten years ago. I won a satellite to EPT Barcelona and then realized I didn't have a passport and needed to get one in the next two weeks! Fortunately I lived in Boston at the time, so there was a regional passport office quite close to me where I could get one expedited.
Crossing the border is always a source of some anxiety for me, not because problems are likely, but just because they are possible and if for some reason some power tripping border agent decided to turn me back, it would really suck. We got one of the nicer agents I've dealt with, though, and she sent us through without any problems. She even let us keep our bear spray, which technically you are not allowed to bring into Canada, even though you can buy it in Canada.
Our next adventure began when we arrived at the Airbnb I'd booked for my first two nights in Montreal. Because I added those two nights, before the start of the WCOOP, after booking the rest of my stay, I wasn't able to get them at the same apartment where I am now. And because I expected to be by myself, I went for a cheap place and didn't do as much research as I would have if I'd known Emily would be with me.
But now Emily was with me, and of course because this was Montreal, the woman I was renting from was a smoker and the place reeked. Emily is allergic to smoke, so we had to find a hotel, and we weren't able to use data on our phones in Canada, so we were huddled on the tiny back patio behind the apartment using the Wi-Fi there to find another place to sleep.
Thursday ended up being a long day, though we did eventually end up in a comfortable and not terribly expensive hotel by the airport. It wasn't an exciting place to spend the next day, but it got the job done, and I was able to get some coaching in before WCOOP started, which was a priority for me.
On Saturday we were able to get in to the Airbnb where I am now, and from there everything went pretty smoothly. As much as I enjoy being in Montreal for COOPs, I always feel like I'm missing out, because there are so many good restaurants and fun-looking bars around that I don't have the time or inclination to go to by myself. Well, we were able to get in four great meals at charming neighborhood bistros before Emily left town, and I even got to introduce her to my Montreal friend Luis!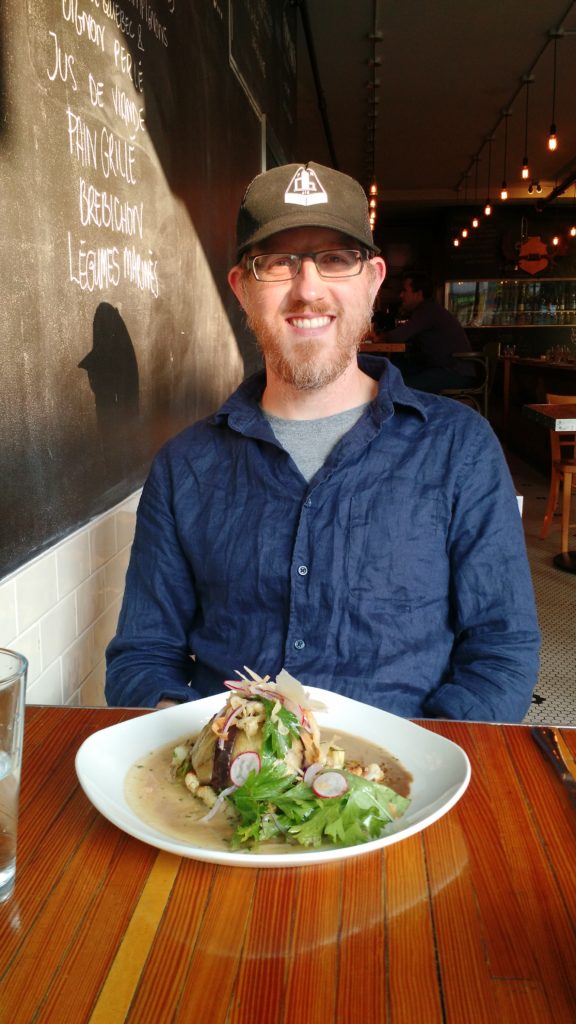 She left Tuesday morning, and I've been focused on poker ever since, though I'm trying to go easy, as the series is only going to get more intense and I don't want to wear myself out early. Yesterday I finished early after busting the heads up event in Round 2, so I got to hang out at one of those hip bars with Luis. The weather was perfect and we got a seat outdoors, which made for an awesome evening.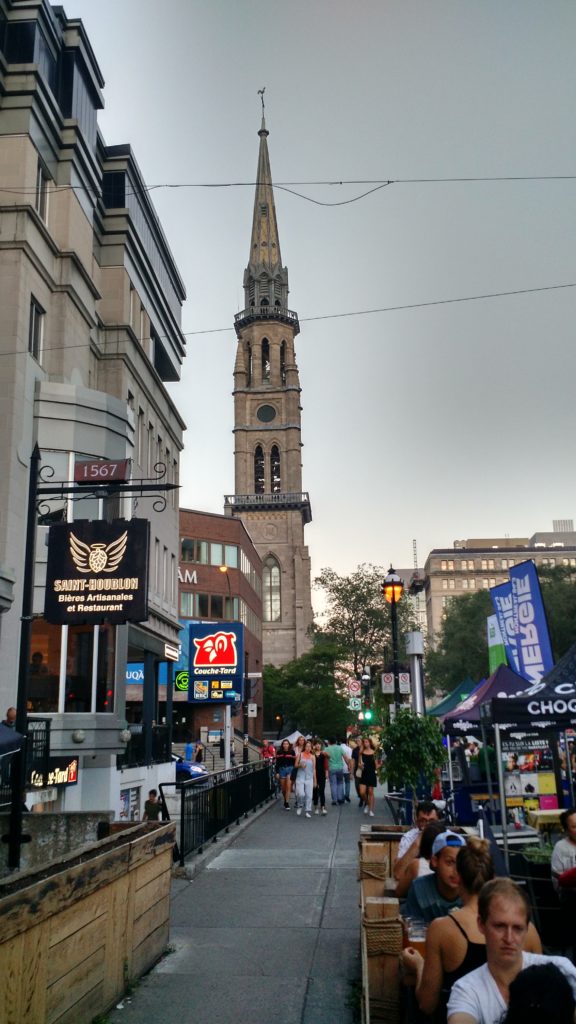 Poker-wise, things are off to a good but unspectacular start. I've cashed several events already, made two Day 2s, and even Zoom is going well. I've played a bunch of interesting hands that I'll start posting as time permits.