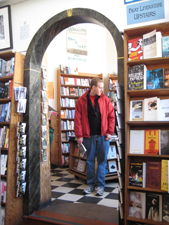 ThinkingPoker is Andrew "Foucault" Brokos' web presence. He's been blogging on poker (plus a bit of urban debate, and occasional personal adventures) since December '06.
About Andrew "Foucault" Brokos:
Andrew Brokos is a professional poker player, writer, and coach. He began his career playing largely online, with a focus on first on sit-and-gos, then on multi-table tournaments, and most recently no-limit hold 'em cash games. In 2011, Andrew was a member of PokerStars Team Online.
Since Black Friday, Andrew has acquired a lot more live poker experience, and indeed one of his most notable poker accomplishments is cashing five times in seven years at the WSOP Main Event, including three finishes in the top 100. Other prominent finishes include victory in a $2000 2-day NLHE FTOPS event and third in a $500 WCOOP.
Andrew chronicles his poker play on his blog, co-hosts the Thinking Poker podcast, writes regular articles for Card Player and Two Plus Two Magazine, and produces videos for Tournament Poker Edge.
In addition to his poker playing and writing, Andrew is a non-profit entrepreneur. After working with the Chicago Urban Debate League and the National Assoc. of Urban Debate Leagues during college, Andrew founded the Boston Debate League to bring competitive policy debate to Boston Public Schools students. He continues to assist the League and serves as its Treasurer.
Andrew grew up in the suburbs of Baltimore, Maryland and graduated from the University of Chicago with a degree in Philosophy.
Contact Andrew using this handy form. If that gives you trouble he can also be reached at contact@[this site's web address]. Be sure to include the word contact in the subject line to get your message past our spam filter.
[For a little more background on Andrew, check out this essay he wrote for his Two Plus Two 'carpal tunnel' post that describes how he ended up becoming a poker pro]