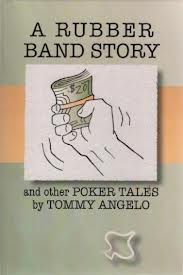 Tommy Angelo's second book, A Rubber Band Story and Other Poker Tales, is an eclectic collection poker writing from one of the game's most beloved authors. Because A Rubber Band Story spans more than a decade of Angelo's career and runs the gamut from fiction to advice to memoir, it's hard to generalize about the book as a whole. Much of it is funny, some of it is sobering, and reading it all provides good insight into the evolution of Angelo's unique poker mind. Of course some material is stronger than others, but any fan of poker should find something of interest – probably a lot of interest – in these pages.
Most of the book consists of stories, some fictional, some true, and some skirting the line, but there is also a collection of "Musings" and some advice for dealing with poker's many frustrations and challenges. While all of the stories are entertaining, most also serve as parables, so the whole book can be read as a meditation on the constant struggle against tilt. Few players have been as successful in this struggle as Tommy Angelo, so his is a meditation well worth reading.
The icing on the cake is that Angelo is a delightful writer, a rare treat among poker authors. His love of the English language is apparent, and each piece is clearly crafted with care. His amusing turns of phrase will keep you smiling even as his astute insights keep you nodding.
A Rubber Band Story consists largely of previously published material, much of which is freely available on Angelo's website. One could call it greedy to compile a bunch of articles that could be read for free on the internet into a book and charge $15 for it, but it's more correct to think of Angelo as quite generous not only to have made so much of his writing freely available for so long but to keep it up on his website at the same time that he's selling it in book form.
Not a lot will be new to Angelo's most avid fans, but then again such fans probably won't mind shelling out $15 for even a few unread pieces by their favorite author (and they probably already own the book and don't need my advice about whether to buy it). Plus, buying the book directly from the author's website entitles you to a personalized inscription and a free EPUB file for reading electronically. Those new to Angelo's work will get not just a great introduction but a sweeping survey of his oeuvre. By the end of A Rubber Band Story you'll know whether you love or hate Angelo's style, though it's hard not to love it.