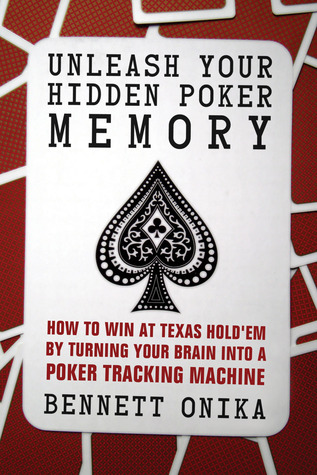 In his "Introduction" to Unleash Your Hidden Poker Memory, Bennett Onika warns readers that, "though this book is basic when it comes to memory techniques, you should have a really good understanding of poker, both tournaments and cash play, because the poker game itself will mostly be ignored." It is indeed crucial for the reader to bring his own poker expertise to the book, because the author has none. If his book stuck to providing guidance for memorizing poker-specific content such as cards and equity, then his lack of expertise wouldn't be such a problem.
However, Onika routinely provides misguided advice about what to memorize and why that, if followed, would result in quite a few mistakes at the table. Regular readers of this blog would quickly recognize Onika's lack of qualification and take his advice with a handful of salt, but I worry that less knowledgeable readers might follow his advice more literally and get themselves into trouble.
Unleash is first and foremost a book about memory techniques and training your memory. It wouldn't be fair for me to review it in this regard because I don't know much about the subject nor did all the work necessary to learn the recommended techniques. The impression I get, corroborated by the author himself, is that the memory techniques he teaches are nothing ground-breaking. It seems the real point of this book is to provide advice and examples to make these memorization strategies relevant and useful at the poker table.
Onika insists that you will be shocked by how quick and easy it is to learn these memory-enhancing techniques, but these kinds of books always make those kinds of claims. Like I said, I can't comment on how easy or effective his techniques are; I can only describe them.
Onika's teaches what he calls the "LOCI method". The premise is that memory is primarily visual, and by associating things you want to remember with mental images, you can dramatically improve your recall of specific details. He teaches you to correspond digits with sounds and then to build image-rich words with those sounds. To remember that 6-5 offsuit is the 132nd best starting hand in hold 'em, for example, you would associate it with a demon, because 1 corresponds with D, 3 with M, and 2 with N. Thus 132 = DMN = demon.
Perhaps you are wondering why you should care that 65o is the 132nd best starting hand in hold 'em, or what that even means. Those are good questions that Onika never explicitly answers, though he does seem to think that memorizing this list of starting hand rankings is extremely important and will put you "lightyears ahead" of the pros (he uses exactly this phrase to compare himself to Dan Harrington at the end of the book). I can tell you that his hand rankings are not based purely on hot-and-cold equity vs. a random hand, because he actually has two lists: one for full-ring play and one for heads-up play.
Onika also advocates turning your brain into a statistical database that will enable you to have something akin to a HUD in a live poker game. He teaches techniques for tracking each player's VPIP by position and concludes that, "if you have taken statistics, you know that 30 points of data become statistically relevant." It's been a while, but I have taken statistics, and I have no idea where he gets that number from. He also says that he resets his count after every break in a tournament, because people may change the way they play. Good luck collecting 30 data points for each player in each position in two hours of live poker.
This isn't to say that I can't think of practical applications for the skills Onika teaches. Of course it would be nice to remember more detailed information about exactly how many hands each player has played, what his tells and tendencies are, which cards have been folded in Stud games, etc. The problem is that most of Onika's recommended applications are not only useless, like his hand rankings chart, but downright misleading.
He wants readers to memorize the equity that any given starting hand has against various ranges so that they can make better decisions about whether to call all-in bets. So far, so good. The problem is that he makes no allowance for the fact that the size of a player's stack will drastically influence his shoving range and that his VPIP over the last 30 hands is not necessarily indicative of his shoving range. Moreover, Onika specifically recommends memorizing which hands have 60% equity against which ranges, which of course is far more equity than you'd need to call a shove in most circumstances.
One funny example that encapsulates the problem with Onika's recommendations comes from a hand he describes. He held ATs, and a player with a high VPIP raised. Determining himself to be a favorite, Onika re-raised and called an all-in bet. The player showed him AK and berated him for calling after the inevitable suckout. The error, of course, lies in the assumption that any hand that's a favorite against a player's opening range is good enough to re-raise and get all-in against that player.
Unlike with the poker strategy, the author does seem to know his stuff when it comes to techniques for improving memory. Then again, I doubt I'd know it if his advice was full of holes in that regard as well. In any event, none of the techniques in the book seem to be original. Onika makes no secret of the fact that he is simply applying well-known tricks from the world of competitive memorization to the game of poker.
This is why Onika's lack of poker expertise is such a problem: it's the only thing he's really bringing to the table. You'd probably be better off learning memorization tricks from one of the original experts and then using your own judgment about how to apply them at the poker table. At least you wouldn't have someone consistently pointing you in the wrong direction. I could go on and on about Unleash Your Hidden Poker Memory's misguided poker advice, but frankly it got exhausting keeping track of the book's many errors, and I gave up trying. Guess I need to improve my memory.