Posts Tagged 'boston debate league'
Last week's trip report from a BDL tournament culminated in a description of the Varsity Finals, in which a brother and sister team from Roxbury narrowly lost the championship debate. I'm pleased to report that they've since had an even greater victory at the district championships and will be representing not just the Boston Debate League but the entire New England region at the National Forensics League (ie the real NFL) National Speech & Debate Tournament to be held this summer in Indianapolis (as far as I know it's simply a coincidence that that other NFL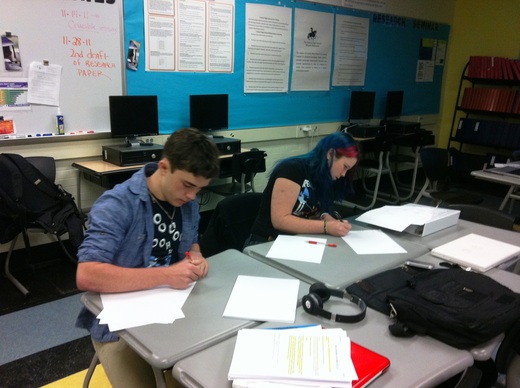 recently had some sort of important competition in the same city).
Dozens of the best two-person teams from throughout New England competed at the two-day district championship for one of two opportunities to debate at nationals. The other national qualifying team hails from the suburb of Weston, though the first alternates are also from the BDL. Read the complete post...
This is the conclusion of a trip report, the first part of which can be found here, from a high school debate tournament at which I recently volunteered. I founded the Boston Debate League in 2005 to bring competitive extracurricular debate to students at some of the city's more troubled public high schools and continued to serve as the part-time, volunteer executive director for several years. In 2008 we hired a full-time executive director who has grown the organization into something much larger and more influential. He was out of town this weekend receiving an award from his alma mater for this excellent work and asked me to fill in for him at the tournament, which I was more than glad to to.
Round 3
Saturday morning proves far more hectic than anticipated. There's a surprising amount of turnover, meaning students who competed last night but who if they plan on coming at all today have not arrived as of 8AM. Frustratingly, I'm not getting good information from coaches about which of their students have not showed up.
I am used to leading by moral authority. When I ran the BDL, the coaches and students all saw how hard I worked, and most of them knew that I wasn't paid. I more or less shamed them into making my job easier and doing what I told them to do. Read the complete post...
Sorry for the recent silence – I was in Boston over the weekend running a debate tournament for the Boston Debate League. I don't have a WYP for this week, so instead please enjoy this Trip Report which hopefully will provide a behind-the-scenes insight into the world of high school debate, or our own little corner of it anyway:
There are 174 high school students registered for the debate tournament I am running this weekend. Roughly 135 will actually show up to compete, but not all of those 135 will be among those who registered in advance. These students will compete Friday evening and all day Saturday. Most of them will, anyway – a few show up, without warning, on only one day or the other. Just as many will be competing simultaneously at another of our schools, most of which are not large enough to host so many debates at once. That other school is not my responsibility at all.
About half as many middle schoolers will debate in their own separate competition at my school on Saturday only. They are kind of but not really my responsibility.
When I stepped down, three and a half years ago, as executive director of the Boston Debate League (BDL), we were lucky to get 40 kids at a tournament. Obviously there was no need to spread them out across two sites. There were no middle school debaters. Read the complete post...
Today is Sunday, but I won't be playing the Sunday Million, because I'm currently in the United States.
For as long as I've had this blog, I've started every year with a series of posts about my poker-related goals and resolutions, and I've ended every year by assessing the progress I made towards them. I set goals for 2011– my most ambitious ever, actually- but now it seems pointless to even look at them, as Black Fridayrendered them more or less irrelevant.  The best laid plans of mice and men, eh?
I'm not really in a place to start setting poker goals for this year, either, since I have no idea what the year will look like for me, poker-wise or otherwise. Not since my final semester of college have I felt this level of anxiety and uncertainty about my future. Those Big Questions are back: Where will I live? What will I do? Who will the people around me be?
I've spent the last week and and a half fending off questions, some idle and some concerned, at various gatherings of friends and family. My recent life as a nomadic poker professional was strange enough to them that they've learned to accept without alarm the fact that I don't know where I'm going to be two weeks from now. Read the complete post...
No, I'm not talking about my mixed games dabbling. At least in the United States, December 31st is the deadline for making charitable donations that you can write off against your 2011 income. That means that the government is functionally matching some portion of your donation. What poker player doesn't love overlay?
I know this has been a rough year for online poker players everywhere and especially in the US, but let's keep it in perspective. As my grandmother once told me, "There's always someone worse off than you."
The organization closest to my heart is the Boston Debate League, a nonprofit that I founded seven years ago. The BDL now serves thousands of students in thirteen of the city's public high schools. We (I'm still on the Advisory Council, though admittedly spending the better part of this year outside of the country made it difficult to participate actively) help schools to start competitive after-school debate teams, organize citywide competitions, and train teachers to use debate as a teaching tool in their classrooms.
Debate can have a powerful influence on kids who are not doing well in school. It's engaging in a way that their usual schoolwork may not be, and it encourages independent, critical thinking. Urban students who debate are 42% more likely to graduate from high school than their non-debating counterparts. A single year of debate increases a student's reading level by an average of 2-3 grades. Read the complete post...
This is an interview that I did with Railbirds.com a few hours after my elimination on Day 7. No beautiful women in this one but it is much less rushed than the others so I'm able to answer questions in more depth:
Boston-based poker radio show House of Cards recently aired an interview with me that was recorded not long after my exit from the WSOP Main Event. The host of the show, Ashley Adams, is actually a union negotiator who works with Boston Public Schools teachers, so while we talked a lot of poker, he was pretty interested in the Boston Debate League as well.
My interview starts at around the 2100 mark. Also on the show is Brandon Steven, who finished 10th in this year's WSOP. I haven't done too many interviews, but hopefully I'll be doing more in the future, so please let me know what you think, good or bad!
It wasn't the Boston Debate League, but a team from our sister league in Chicago recently won the National Forensics League Grand Tournament in Kansas City, making them the first Urban Debate League team ever to win a national championship (there are several- the NFL's are the largest, though arguably not the most prestigious). The Chicago Debate League was one of the first UDL's in the country and is considerably older and larger than the BDL. The winning team hails from Whitney Young High School, which actually had a debate team even before the CDL got off the ground.
Not that I can take any credit for this victory, but I worked with the CDL for several years while I was in college. In fact, it was a formative experience that led to my starting up the BDL when I moved to Boston. Even absent that personal history, I'd have to say that this is a very impressive accomplishment that hopefully will pave the way for more UDL success on the traditional debate circuit in the future.
Pictures and press release available here.