For those who don't know, my girlfriend Emily is moving to Las Vegas for work, and I drove out with her to help her move and then to stay through the WSOP. After a solid week of driving cross-country from Boston, Emily and I finally got into Vegas late last night. I wrote up a bit about our first few days, and I'll be back with the second half of the trip later.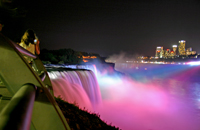 We got a late start Thursday morning and didn't make particularly good time, which meant we didn't arrive at Niagara Falls, where we'd be spending the night, until 10PM or so. We'd gotten up early and spent the day packing and driving, so we were both exhausted, but I wanted Emily, who'd never seen the Falls before, to experience them all lit up. So we pressed on past our hotel to Niagara Falls National Park, where we had to dodge a thick swarm of moths, mosquitos, and other unidentified flying insects to take in the remarkable views. It was worth it, but we were dead tired when we finally checked in, after bad directions from the front desk delayed our arrival by a good twenty minutes.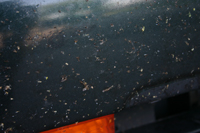 The next morning, we woke to find a prodigious smattering of dead insects on our grill, windshield, and roof rack. It was so bad that we had to stop at a gas station just to wash the bug guts off and clear the driver's field of vision.
Then it was back to the Falls, this time to ride the Maid of the Mist ferry over to their base. I'd taken this ride once several years ago, but had forgotten just how wet it leaves you. Still, it was good fun, though crowded with rambunctious middle school students on some sort of field trip.
Then we hit the road for our longest scheduled driving day. The trip, a largely boring one, took us across Pennsylvania and Ohio, where we stopped for dinner in Cleveland. Unable to locate the restaurant where we'd planned to eat and pressed for time, we figured we could easily find something downtown near the Galleria and Rock and Roll Hall of Fame. Wrong. By 5:30 PM on a Friday, all of downtown Cleveland, including these tourist attractions, was a ghost town. The mall was closed, restaurants were closed, and the streets were empty. It was unbelievable.
Finally, Emily spotted a Crown Plaza hotel with a restaurant called Jalapenos in the basement. The food was surprisingly good and reasonably priced, and the staff was elated to have some business. Waitresses were literally fighting over who would serve us, and both the host and our server thanked us repeatedly for coming. It was cute, but kind of sad.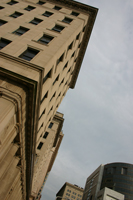 Overall, two thumbs down for Cleveland. This was the second time I'd been there, the first when stuff was open, and both were mind-numbingly boring excursions. I continue to hold the opinion that Cedar Point is the only worthwhile place in all of Ohio. We even got a pamphlet at the Welcome Center entitled "10 Ways to Experience Ohio" or something like that, and damn near every one of the ten was about farming. Three of them were different examples of how tourists could pick their own fresh fruit, Christmas, tree, etc., and one of them was a recommendation to see a series of barns painted with patchwork quilt patters. Honest, painted barns are one of the ten most exciting things to do in your damn state? Pathetic.
Thankfully, we blew through Ohio in a single day and spent the night just outside of South Bend, Indiana. Saturday was opening day for the East River Waterway, a mile-long, man-made white water rapids course running through the city. For $4 a person, we were able to rent a raft, paddles, helmets, and safety vests and go for a ride.
Before setting sail, we got a 60-second safety briefing from a rather attractive young woman in a very flattering bathing suit. I managed to focus just enough to hear four rules:
1. Don't drink the water.
2. Enter each rapid with the raft facing forwards.
3. Continue to paddle as you go over the rapid.
4. If you fall out, float feet first with your butt up until you get back to the raft or a guard tosses you a rope.
Within two minutes, I managed to break each of these rules. We crossed the first two rapids no problem, but got stuck behind a barrier heading into the third. The current pulled us out sideways into the rushing water. We straightened out slightly only to get pulled sideways once again coming into a large hole. Boat goes up, water goes down, I freak and stop paddling, next thing I know I'm soaking wet and swallowing this disgusting urban river water. Floating to the surface, I straighten myself out so that my feet lead the way over the next rapid. However, I misinterpreted the meaning of "butt out" to imply that I should be floating on my stomach. Apparently, I was supposed to be on my back with my butt "out" in the sense that my feet are floating rather than dragging beneath me. My finger scrapes the bottom of the river as I cross the rapid sans raft, and after another minute or so of floating, someone finally tosses me a rope.
I've got no choice but to change into dry clothes in a filthy Port-a-Pot.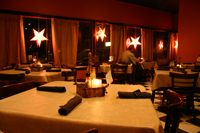 Now late, we press on with just a quick stop for lunch, and arrive in time to catch dinner at a fantastic little hole in the wall in Des Moines called The Flying Mango. It was kind of a Caribbean grill (not that anyone working there seemed remotle affiliated with the Caribbean) that started as a catering business and eventually opened a restaurant. I had pan-seared tuna with a mango salsa, mango iced tea, linguine with lime and black pepper, and corn bread with honey butter, all out of this world.
Meanwhile, two drunk and very unhappy middle-aged men were seated at the table next to us. The first guy to arrive seemed to know someone who worked at the restaurant and proceeded to relate the exact same boring story about that person to the hostess, the waitress, and even the chef, all of whom listened politely. He continued to make rambling conversation with the waitress every time she came by, so even though the place was damn near empty, the service was a little slow at times just because this guy wouldn't shut up.
Eventually he was joined by another guy whom he introduced to the waitress (who does that?) as a writer for Vanity Fair. The first guy was annoying but mostly just pathetic. The second was an asshole top to bottom. The two of them debated loudly about what to order and interrogated the poor waitress about their options. When they were served, the nasty guy complained about how quickly the food came. He then got agitated that the other guy was eating instead of listening to his analysis of how some mutual acquaintance of theirs blew a multi-million dollar business deal of some sort.
I literally thought these guys might be messing with other they were so rude. The angry guy kept asking, "Do you want to eat or do you want to listen to my story?" WTF why can't he do both you old coot?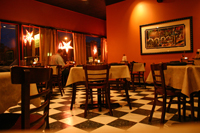 "I want to eat," the pathetic guy told him nonchalantly, which only made the angry guy ask again more angrily.
I tuned them out for a while, but caught a discussion about their bill. The angry guy was reluctant to put up $24. I don't know what things cost in Des Moines, but that seemed quite reasonable to me for steak, a beer, tax, and tip. He ended up leaving the $24, but wasn't happy about it.
They left the dining room just moments before we did, and walked out past the chef, who was cleaning up the bar area before closing for the night. "How was everything?" he asked them.
"I'll never be back, I can tell you that," the angry man told him rather nonchalantly.
"Why not?"
"$24 for a steak? It wasn't worth that. It was kind of dry."
I rushed out as they finished talking, and before the drunks left the room, I made a point of telling the chef, "The entire meal was wonderful, thank you." Unfortunately, neither reacted, but each did get into a vintage car that Emily, who knows much more than I about such things, estimated to be worth about $70K a piece. And these guys are haggling over a $24 tab. The Kings of Des Moines, Emily dubbed them, classic examples of big fish in a small pond.