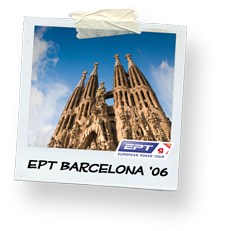 Part 1 |  Part 2 |  Part 3 | Part 4
There's not much poker content in this one, but hopefully you'll find some enjoyable travel writing and learn a bit about Spani..er, Catalan… language and culture:
Part 1: Guess I'm Headed to Barcelona
I qualified for EPT Barcelona largely by chance. After having a great time and cashing at the WSOP, I had the desire to play more big live tournaments and the bankroll to take some shots at them. Unfortunately Poker Stars runs most of their satellites on weekends, and I rarely have the opportunity to play weekend tournaments, as these are the only times my girlfriend is not working and I generally try to keep them free. But for whatever reason, there was one Saturday that I did have free, and so I decided to play all three of the EPT satellites running that afternoon (Barcelona, London, and Baden) at ~$500 each. Each was paying a seat to just over 1 out of every 20 participants, so between the 3 of them, I felt I had between a 33%-50% chance of winning something. I didn't make it too far in the London or Baden events (which would have been my top choices), but made it to the final two tables of the Barcelona one, with twelve spots to be paid out. Unfortunately, my stack was the shortest of the 18 remaining players, but I had the chipleader to my immediate left… 
Continue reading Part
I take a short flight from Boston to Philadelphia, then a long one from Philadelphia to Barcelona. 2p2'er 10K-in-Clay is on this flight and has told me I should be able to recognize him because he'll be with his purple-haired girlfriend. I introduce myself briefly, agree to split a cab with them in Barcelona, then board the plane.
While waiting to take off, I flip through some Barcelona books I bought or took out of the library, and learn some interesting facts.
Cultural Lesson One: Barcelona is a city of thieves. All Barcelonans should be presumed to be pickpockets and petty criminals until proven otherwise. No belongings should be allowed out of my sight, and anything slightly important or valuable should be stapled to my person so that it cannot be swiped by teenage hoodlums on mopeds… Continue reading Part 2
Part 3: The Rain in Spain
When I wake up, it is morning, and we are about to land in Barcelona. I meet up with 10K-in-Clay, whose real name is Dan, and his girlfriend, Danielle (Dan and Danielle… cute, but maybe a little too cute). Dan is a 19-year old Canadian about to play his first live event. This is only my second one, but I try to share a few things I learned from my first one. Danielle is his age, friendly but quiet. They knew each other from high school but now go to different colleges. I'm quite sure that no teenage daughter of mine would be jetting off to Spain with her poker-playing boyfriend, but I hear Canada is a pretty liberal country, so more power to them.
After collecting our bags, we pass through customs without so much as turning a head and go to find the cab stand. I had heard that precipitation on the Iberian peninsula is localized primarily in the flatlands, but no sooner have we gotten in the cab than the sky opens up… Continue reading Part 3
Part 4: The actual tourney begins
I show up early at the casino to make sure I have time to register, and who should be next to me in line but Yurian? We've got time to kill, so we get lunch along the waterfront. I let him choose the place, and he selects what is essentially an overpriced fast food pasta place. So much for Europeans having good taste in food. At least he speaks some Spanish and is willing to be pushy about getting the check.
Level 1: Blinds 25/50
The 1 seat is late to arrive, and loses a big pot almost immediately after sitting down. He raises in late position and calls a re-raise from Gustav in the BB. The flop comes down Ace-high, Gustav bets 2000, the guy raises to 5000, Gustav shoves… Continue reading Part 4