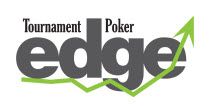 Instructional videos are one of the most efficient ways to hone your poker skills. Video is a format in which I believe I, because of my background in education, can teach the game particularly well.
My latest poker videos are available with a subscription to Tournament Poker Edge. Although it's a tournament-oriented site, 90% of my theory videos are going to be useful for cash game players as well. My current series include:
Hand Reading – A course on hand reading designed to make this important topic quick and easy to learn. Becoming an expert hand reader is a long journey, but this series is full of helpful information that you can implement immediately to make better decisions today and begin your journey on the right foot.
Getting Paid – This one is about getting money into the pot when you have the best hand.  The videos in this series address concepts such as choosing which hands to target for value, slowplaying, planning ahead, and building really big pots when you're deep-stacked.
WCOOP Early Game Play – Practice your hand reading and value targeting plus learn valuable pre- and post-flop strategies for deep-stacked tournament play.
WCOOP Late Game Play – This hand-for-hand review of a deep run in a WCOOP event continues with an emphasis on late-game concepts such as blind stealing and 3- and 4-betting.
WCOOP Final Table Bubble (coming soon) – Learn to analyze stack sizes situationally to determine when to steal, when to take chances, and when to button up and let the others eliminate each other.