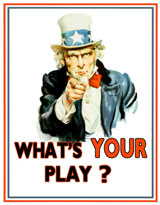 Edit: Just realized the first paragraph of this post disappeared for some reason. Rewriting it now.
In his opinion, Hero hasn't been that aggressive, but that isn't how this loose and passive $1/$3 no-limit hold 'em table sees it. I've mostly been doing pretty simple stuff, bombing it preflop against weak limpers, continuation betting, raising weak bets post-flop, but I'm definitely perceived as extremely aggressive. The only all-in pots I've played were with a set and with a flopped middle pair, gut shot, a flush draw.
Villain is at once intimidated by me and also eager to see me lose. This isn't speculation on my part: there's no filter between his brain and his mouth, and I've had plenty of time to learn exactly what he thinks about my play ("this guy always knows when to raise, I can't beat him in a pot, that's real poker, that's how you play, god there he goes again, raising again," etc.) as well as that he's been playing for 14 hours, he's extremely frustrated by the bad cards he's been dealt.
He's extremely results oriented and always thinks he should have bet more to protect his hand if he gets drawn out on, that he should have called pre-flop if he would have flopped two-pair, etc. He's been playing a lot of pots pre-flop out of boredom/tilt, but after the flop he likes to see where he's at and I haven't seen him commit much without a strong hand. He's proudly shown a couple of bluffs in a few very standard spots, like betting the flop after he raises pre and then dramatically revealing a whiffed QTo on an A85 flop, that sort of thing.
He really likes to see me lose pots and especially likes the idea of people rebluffing me. I've folded to a few flop check-raises from other players that he is convinced were bluffs, though I'm pretty confident he's wrong. He always pounds the table and congratulates the other player when that happens. "That's how you beat him. It's so easy. Just raise him, he never has anything." Despite his talk, he hasn't actually put that strategy into practice yet – I know because he shows his cards after just about every hand.
Pre-Flop UTG limps, I limp behind with 4s 3s, there's another limp or two, then a young, tight, and predictable player on the button raises to $15, an indication that he likes his hand but it's not a monster. Villain calls from the SB, the first limper folds, I call, and the others fold.
Flop ($52 in pot) Ks 8d 3c Villain checks, I check, Button bets $20 and is visibly uncomfortable, Villain calls, I raise to $60, Button folds, Villain leans forward, throws $100 aggressively into the pot, and says, "Make it a hundred" while staring daggers at me. I ask for clarification about whether he's actually made it $120, and the dealer confirms that he has. Villain continues to glower at me while we get that sorted out.
He has about $300 behind and Hero covers. What's your plan and why? I don't expect you to predict all possible turn/river scenarios if you don't want to fold, but try to give a general idea of your plan: are you looking to call down, bet if checked to, bluff-raise some or all turns, etc.? Post your comments here, and I'll be back on Friday with results and my own thoughts.