Posts Tagged 'multi-tabling'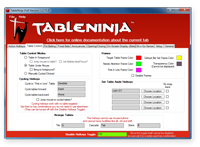 I know I'm late to the party on this one, but I just started using Table Ninja about two weeks ago, and I love it. I just published a full review, but here's the bottom line:
"Table Ninja is one of the very best poker tools I've found. Though not for everyone, it's essential to anyone who is serious about winning money at online poker. Whether you currently play 1 table or 24, if you feel you are at the limits of your ability but would like to be playing more tables, then Table Ninja is for you. It's easy to set up, easy to use, and sure to make you a more efficient multi-tabler."
Read the full review here.
My latest poker strategy article, Improving Your MTT Skills, is now appearing in the July edition of the 2+2 Magazine. It's a little different in that it doesn't discuss particular hands or strategy concepts. Rather, it recommends some non-traditional ways to hone MTT skills that MTT specialists rarely get to practice but that are critically important:
I believe it is possible to improve your expected value and your theoretical Return on Investment (ROI) far more quickly by identifying the most important/expensive mistakes you are likely to make and focusing on improving your decision-making ability in these situations first. That means you ought to be far more concerned about playing better in the late stages of a tournament, especially the final table, than you are about the early stages.
The article is full of specific suggestions, so be sure to check it out and let me know what you think!