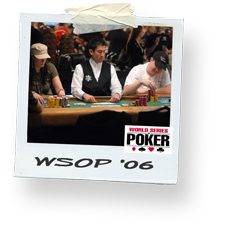 Part 1 | Part 2 | Part 3 | Part 4 | Part 5
Included here is some of my earliest and best poker writing, a trip report from my 279th place finish in the $10,000 buy-in main event of the 2006 World Series of Poker:
Part 1: Intro to the WSOP & me
As most of you know already, I'm playing in the main event of the World Series of Poker this week in Las Vegas. A lot of people have asked me to keep them updated about how I'm doing, so I thought a series of e-mails would be the best way to do that.
First, for those of you who don't know, I'll explain what exactly the World Series of Poker is and how I ended up here… Continue reading Part 1
Part 2: In Over My Head
Thursday night, after having dinner with my father and brother, who have come out to support me for a few days, at their hotel, the Stratosphere Towers, I took a cab back to the Monte Carlo. It is only 8PM, but I need to get an early start in the morning and am still jet-lagged, so I plan on doing a little work and turning in early. My cab driver is a young Asian man who is pretty quiet until we are nearing the hotel, at which point the following dialogue ensues:
Driver: So what are you up to tonight? Big night on the town?
Me: (thinking he is just making conversation) Actually, I'm pretty much done for the night. I've got to get up early tomorrow.
Driver: Maybe get a massage?…Continue reading Part 2
Thursday night I've got a meet-up with a contingent of online poker players with whom I regularly discuss poker strategy. This is my first time meeting most of them in person, and it was a blast. Unfortunately, I had pre-paid $55 for the event, which was to include entree (salad, in my case, since the other options are all meat), dessert (which I don't end up getting), and unlimited beer (which I don't want to take advantage of since I am playing the next day). So basically I had a $55 salad.
However, the value of getting to talk poker and WSOP strategy with these guys cannot be underestimated, so really I think I got a great bargain. In particular, I got to spend about half an hour talking with one of the best tournament players on the internet, whom I know by his online screenname, Rizen. He's one of the nicest, smartest, friendliest, humblest guys you could imagine….Continue reading Part 3
Part 4: My Date with Annie Duke (at the feature table)
About 1150 players begin play today, and 873 will win a prize. Obviously no one wants to finish 874th, and so an interesting dynamic will develop: some players, especially those with the fewest chips, will tighten up considerably, passing up even rather favorable opportunities for fear of going home empty-handed. Others, perhaps more knowledgeable or just less in need of the "small" $14,500 prizes to be paid to the first players eliminated inside of the money 'bubble', will prey on the fear of these short stacks. Still others will look for opportunities to 're-steal' from aggressive players whom they perceive to be picking on the ones trying to fold their way into the money.
So where does this leave me, with a below average but still comfortable stack of 59,300 chips? I'm just not sure…Continue reading part 4
Part 5: Am I an Internet Donkey?
I get back to my room about 2AM Friday night, exhausted from another long day of poker, but there are no more days off, and I need to be in my seat at the Rio and ready to play at noon on Saturday. I wake at 9AM, head down to catch the Poker Stars shuttle around 10:30, and see several people in Poker Stars shirts standing in the taxi line. Seems Stars is no longer running the shuttle, so I split a cab with them to the Rio and we all head down to the hospitality suite for coffee and muffins. We are talking idly when a bearded journalist interrupts us to introduce himself, "Hi, my name is Jim McManus, and I'm covering the World Series for the LA Times. I'm writing a piece on bluffing in poker and bluffing in the Middle East, and I was wondering if any of you could share some stories about big bluffs you've been involved in so far in this tournament."
Jim McManus? I'm a big fan. In 2000, Jim was a poker enthusiast teaching creative writing at the Art Institute of Chicago. He got an assignment with Harper's to write a story about women at the World Series of Poker and flew out to Las Vegas to cover the event, but ended up spending his entire advance trying to win a seat in the tournament, which he eventually did. He went on to make the final table, win $247,760 (many fewer players competed in 2000- this year the top 12 competitors will all be millionaires), and chronicle the entire trip in a best-selling book called "Positively Fifth Street" ('fifth street' is another name for 'the river', the final card dealt in Texas Hold 'Em). It's a great read, especially for poker players, and I've been very consciously mimicing his style in these updates. In fact, someone suggested that I publish them under the title "Positively Better Than That McManus Book". Unfortunately Jim doesn't have time to talk, but he leaves his e-mail address with all of us and nearly begs us to send him detailed accounts of our experiences with bluffing.
That's pretty exciting, but right now I need to figure out my strategy for the day ….Continue reading Part 5